How do you ensure a good culture fit when recruiting for a tech company?
Finding the right talent is a battle. And it's only half of it.
Along the way you have to make sure candidates align with your company culture. Culture is the critical factor that can make or break the success of a team or even an entire organization. It is magnified in the tech sector, where innovation, collaboration, and the ability to navigate ambiguity often determine success. Whether you're a burgeoning startup or an established tech giant, the principles remain the same: you need individuals who meet the technical requirements AND gel with the unique values and environment the team has put in place.
Culture fit encompasses various elements, from a candidate's ability to work autonomously to their willingness to collaborate and contribute to a team. It also includes more nuanced aspects like understanding a company's mission, growth trajectory, and market positioning. These are not checkboxes to tick off during the hiring process; they are vital considerations that require a deep understanding. Both of the candidate and the company. So we asked our top recruiters what they look for in candidates to ensure they fit our clients' culture. Here's what they had to say.

When recruiting for a tech company, there are 3 specific indicators of a candidate being a good culture fit, regardless of company size (Big Tech or Startup)

Having a candidate that can speak to their ability to navigate ambiguity and deliver with little to no direction.
Someone willing to create a platform to empower their teams by providing the necessary tools, systems, and application resources to be effective and efficient.
Strong collaborator who has the capability to work hands-on and not just speak to a high level of strategic overview.

Chris Pakalnins, Senior Corporate Recruiter at Zenni Optical

I start by doing my best to learn the culture of the company based on parameters.

Company mission and value proposition tell me about the social versus monetary focus. 

Age of the company and what they have accomplished in terms of revenue and number of employees. (growth path to date)

I look at employees from the company listed on LinkedIn and check for longevity versus turn and burn, also intangibles like average age of hire, education, etc. 

I ask hiring managers about the culture, and any sizzle about the job they have, paying attention to what they view as the business unit mission and goals. 

I try to find out about the market the company is playing in. Market share growth and competitors to establish any differentiators.

Find candidates by accurately describing the situation and looking for profiles that have thrived in similar situations.

Alex Hirsch, Senior Recruiter at Coit Group

I have used a variety of different ways to understand culture fit when interviewing candidates. Some of it can be done on the initial recruiter screen but I believe there should be some sort of culture fit question in each stage of the process, or at least be top of mind for interviewers. Some companies will have a designated "culture fit" interview as part of the process and others use a personality profile assessment which is typically a part of the aptitude assessment.

If I am digging into the culture fit aspect, I like to ask candidates about their experience with their direct managers and ask them what things your manager would say about you. You can learn a lot by how candidates respond to this question. I also like to ask what sort of things they are involved in outside the scope of their normal work, for example being involved in committees, mentoring people, culture clubs, etc. Another good question is just to ask what their ideal work culture looks like.

Cache Duininck, Talent Acquisition Strategist at Coit Group

In order to ensure a good culture fit, it's important to understand the core company values as a whole, but also, when speaking with the hiring managers, asking questions about their requirements around what their "ideal candidate" looks like not only from a skills standpoint but also from a personality and soft skills standpoint. I think as an RPO, we have the ability to build a long-term relationship with the client that allows us to have a deeper understanding of what various personalities and true culture looks like.

Noémie Aubé, Senior Technical Recruiter at Jamieson Wellness

When a start-up company begins its hiring journey, they are often engaging the talent market without the assurances that come with market stability, financial health, and job function predictability. Your differentiator as a start-up really comes down to defining who you are as a company, what is important to you, why you believe wholeheartedly in your mission, and especially, why others should want to be a part of the journey.

Tim Gorewich, Head of Talent Acquisition at Zenni Optical
Share your favorite quote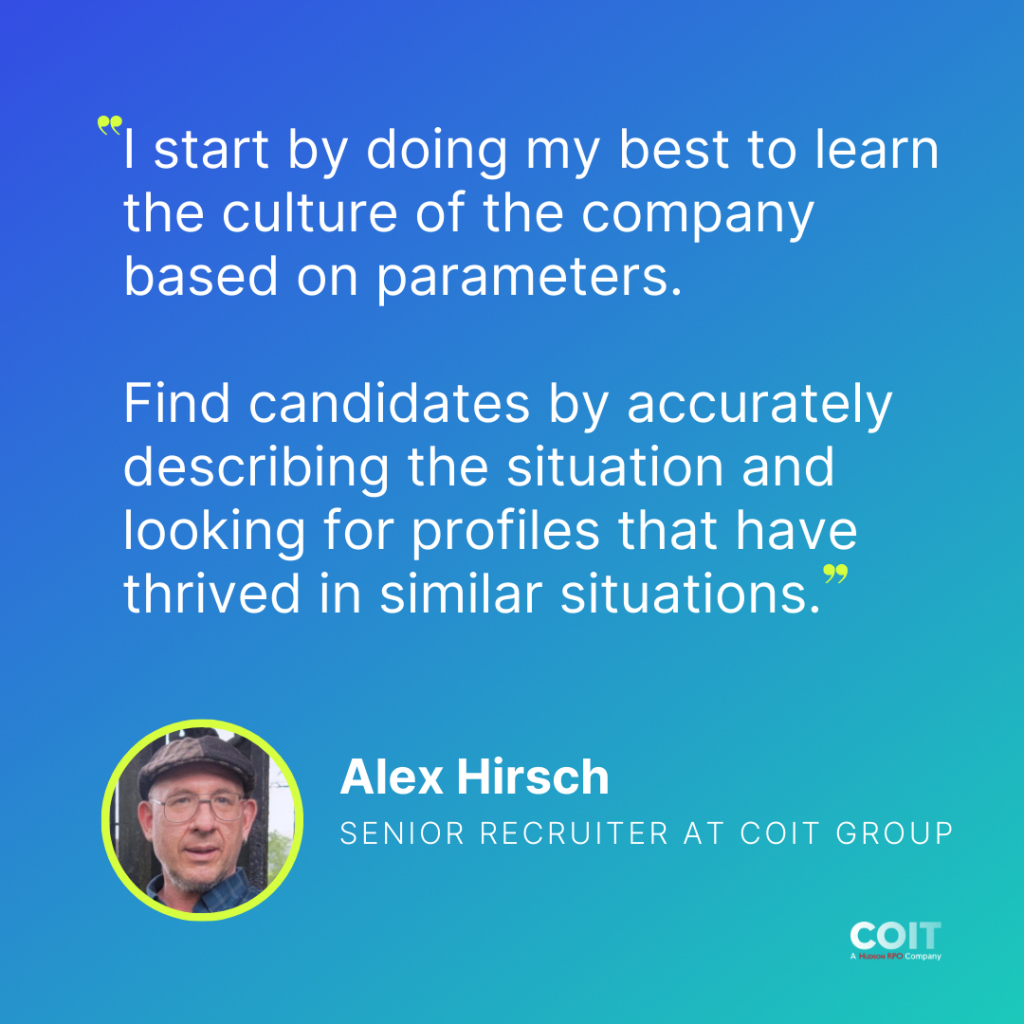 Like our recruiters said, culture fit is a nuanced aspect of the company/employee relationship that goes beyond ticking boxes. It's about understanding a candidate's ability and knack for collaboration, it also involves a deep understanding of the company's mission, growth trajectory, and the market landscape. From initial recruiter screens to designated "culture fit" interviews, each stage of the hiring process should be geared towards assessing these vital elements.
What do you think are the most effective ways to ensure a culture fit when recruiting for a tech company? We'd love to hear your thoughts.
And if you're unable to find candidates that gel with your company culture, please engage with us.