5 Tips to Stand Out in Your Job Search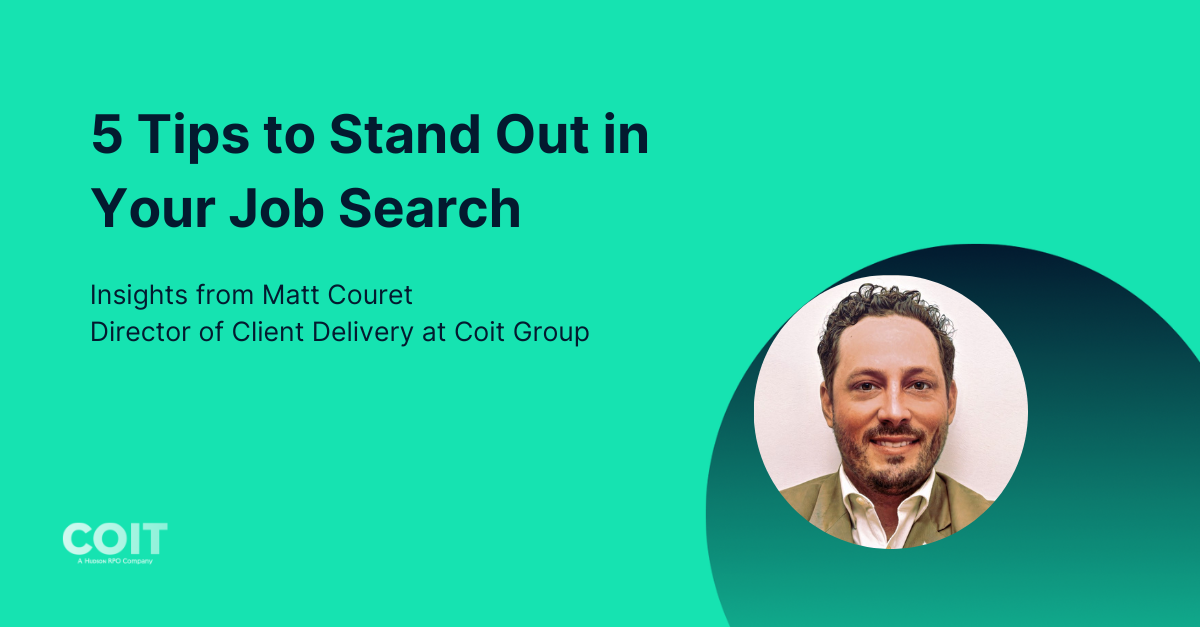 It's safe to say that job hunting isn't exactly at the top of the list when it comes to favorite pastimes. Seeking the right role with the right team and company often takes a lot of time and energy. But like anything, it's easier with some guidance and the right team of pros cheering you on.
With so many positions that have hundreds of applicants, relying on your resume alone doesn't tend to work very well. You'll have to do some extra things for optimal success. Read on for five tips to stand out in the current market, and get out of the resume stack.
1. Know what you want
Sure, it sounds simple. But it's important to think about what you need, and what you want, from your next job. Do some soul searching and take a moment to reflect on companies, roles and opportunities that feel aligned with your same goals.
With those insights, you want to really make your profile stand out for the role/company you want, in the context of the role(s) you've performed. And that requires defining the common ground and shared experiences to make your profile really shine.
Ask yourself:
What is your mission, vision and values? These are vital branding anchors for companies and candidates alike. It's what we start with during our own Method to build high-performing teams. By defining the work that really matters to you, you can make a better case in your application and in interviews.
What are your priorities and non-negotiables? It's important to think through how you like to work: preferences such as flexibility, autonomy, structure, salary etc. If your gut tells you certain jobs aren't the right fit, it's best to pass so you don't waste your time.
What companies and teams do you admire? Like employers, you should have your own shortlist of who you want to talk with. Invest your time and energy in these companies and teams.
2. Tailor your application and brand
We live in a hyper visualized environment. So if you can create small bits of content that give people who are evaluating your profile more to go on, it's going to help accelerate your opportunities.
Today, employers want to know what you can do for them to help them advance their goals. They find peace of mind in proof points such as previous work history and accomplishments, volunteering, a portfolio of work, etc. If you're new to your career, you can still illustrate in-demand attributes such as taking the initiative to learn new skills, building a case study with volunteer work or drafting an interesting approach or response to something the company is passionate about.
Just as you want to see more about a company than a single job description, they want to see more about you than just your resume. Take the heavy lifting out of vetting your qualifications. Study the companies and jobs you're interested in. Write your LinkedIn profile, resume, etc. to reflect those opportunities specifically.
3. Be more than a transactional applicant
We all know the difference between applying for a job and enjoying the experience. The opportunities that tend to be the most rewarding are the ones that focus on building reciprocal relationships, rather than a one-and-done transaction.
Cultivating connections online and off can help you to stand out from the crowd and leapfrog through the hiring process. Whether you're commenting on a blog article from a company leader, sending a note applauding recent accomplishments or connecting at a networking lunch, the idea is to think beyond the application process and focus more on people and relationship-building.
Just as important as "who you know" is that who you know knows what you know. In short, that you're interested in shared goals and challenges, great to work with, positive and proactive, etc. More than telling people, show them you're engaged by showing up where they already are.
Get to know the key players and connectors in the industry. You'll want to take up some mental inventory with these people. Show that you're invested and aligned with what they're trying to accomplish, and be thoughtful in building a two-way dialogue versus a one-and-done.
Initiating conversations is half the battle
How can you make a connection without seeming needy or pushy? Simple. Be human in your approach. You might reach out to someone on LinkedIn and say something along the lines of…
"I understand that you've led XYZ committees or that you're involved in the community, and that you've been a part of this organization for this long. I really respect the work that you've done, and would be interested in talking with you and aligning my career with [name of organization], if I ever had the opportunity to do so."
"I understand that opportunities may not be available today. But I'm very interested in the mission of your company and what you've been doing there. I'd love to connect and stay in touch to understand what's been relevant or helpful for you as you've achieved these moments in your career arc."
Be patient and purposeful
Getting your dream job with your dream company is not always as easy as point A to point B, and that's okay. As time goes on, things tend to boomerang back around if you maintain relationships and interest.
The end goal is creating a lasting dialogue, versus a single application and never hearing back again. Seek to enter people's spheres of influence and be viewed as someone who cares. Taking a relationship-based approach makes it easier to really learn about individuals and the company. It also highlights why you want to work there, which makes your ability to connect and interview that much better.
4. Tell a compelling story
With the rapid adoption of AI, everyone has the ability to elevate their writing, improve their grammar, tell a better story, leverage multimedia and advocate for themselves.
Resumes are still an important tool to help organizations and technology to key in on specific roles and responsibilities. But given that recruiters and hiring managers just spend a few seconds or minutes looking at resumes, you'll want to think of how you can attract and hold their attention with a more compelling story — one specific to their world view, challenges and needs.
It's always good to be able to point out what you've accomplished and what problems you've solved similar to their needs. If there are gaps that you need to overcome (i.e., less experience or a career change), ask yourself:
What are your adjacent skills and experiences? Finding the perfect match is challenging for both you and employers! Create a runway from where you are now to the job you want to achieve to help them connect the dots. What are you missing that you can easily move into or conquer?
How are you always evolving? In an ever-evolving landscape, companies need flexible, adaptable and resilient employees. Show them that's you. When have you taken the initiative or pushed outside your comfort zone?
What is your impact? What impact have you had in previous roles and at previous companies? From sales to team building, leadership or streamlining processes, where do you really excel? If you're early on in your career, volunteer for a project that you find exciting to use as a case study.
How do you go above and beyond? Employers want to see someone who takes initiative. If you broadcast yourself as someone who is effective, adaptable and coachable, it's an indicator that you're a go-getter and action-taker who brings a different set of benefits to a team.
5. Plug into a support team
If you want to accelerate your job search, it's helpful to have the right team in place to support you. With Coit Group, you don't have to go it alone. Put the tips in this blog to work for you right away. Learn more about us, and shoot us a message at [email protected] if you like what you see. Let us introduce you to companies that are hiring right now, and help you cut through the resume clutter. Let's connect.