5 Signals of a Strong Employer Brand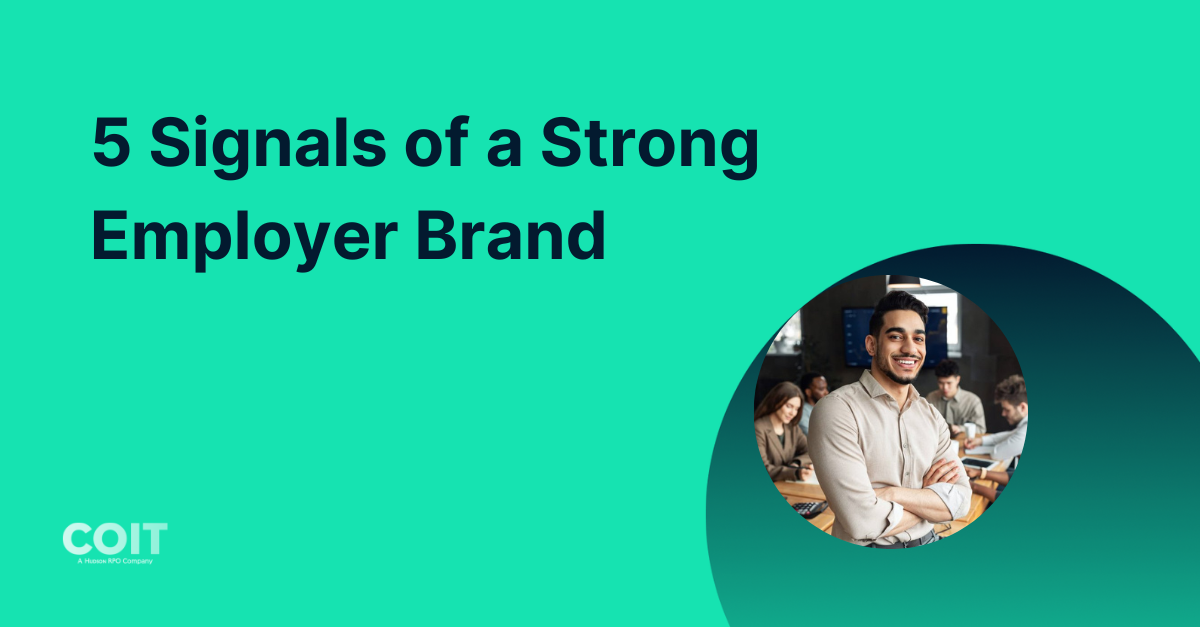 Whether carefully cultivated or not, every company has an employer brand. One that has a substantial impact on its success and bottom line. From better retention to a lower cost per hire and more applicants, a strong employer brand plays a key role in achieving many business goals.
More than a marketing exercise or window dressing, your employer brand is how potential, current and previous employers perceive your business as a place to work. It's a testament to who you are and what you stand for as an organization, attracting (or deterring) your ideal workforce.
The value of a strong employer brand
A strong hiring brand is why people will choose your company over competitors, change jobs to work with you and show up to do their best work as a part of your team. It's a powerful tool worth investing in. How powerful? Consider these employer branding stats from Glassdoor:
92% of people would consider changing jobs if offered a role with a company with an excellent reputation.
86% of employees and job seekers research company reviews and ratings to decide where to apply for a job.
75% of job seekers are likely to apply to a job if the employer actively manages its employer brand.
A strong employer brand can reduce cost per hire by as much as 50%.
A negative reputation can cost a company as much as 10% more per hire.
How does your employer brand measure up?
Many talent acquisition and recruiting leaders are not branding or marketing experts per se. But they fully understand the role that well-defined messaging, experiences and outreach play in achieving talent goals.
Built across many different channels and interactions, the strength of your hiring brand can be measured by several end results. Here are five signs that you have an effective hiring brand.
1. High employee engagement
When you have a stellar employer brand, you are more likely to attract and retain top performers who share your same vision and values. This in turn leads to higher employee engagement and word-of-mouth marketing for your company.
Employees who are engaged and satisfied at work are more likely to refer your organization to their colleagues, stay with your organization longer term and put more effort into achieving shared business goals. If you find lower levels of engagement at your workplace, it can be a clear sign that your employer brand needs attention.
2. A large number of quality applicants
The world's most admired companies have no trouble attracting top talent. So much talent that they receive tens of thousands or millions of applicants each year. An influx of qualified applicants is a signal that your employer brand is in a good place, provided you're receiving high-quality talent alongside a surging number of applicants.
If you have a large number of applicants in one area but not another, it's important to remember that your employer brand must be established and cultivated as you expand into new markets, industries and geographic regions. Your brand could top the list locally or in your main area of expertise, but it will need more attention in new regions and talent pools as you work to achieve your business goals.
Hence, segmented employee value propositions (EVPs) are so impactful — and such an emphasis in our proven approach. To strengthen your position and appeal in all areas, you need to be intentional and specific about what's in it for each talent pool.
"In addition to discouraging bad applicants, having a strong brand can serve to attract individuals who otherwise wouldn't apply for the job."
— Edward E. Lawler III & Christopher G. Worley
3. Positive reviews & sentiment
With Glassdoor, Indeed, LinkedIn and other social media channels, it's easier than ever to get a firsthand assessment of what it's like to work at your company. Employees are viewed as three times more credible than CEOs when it comes to talking about organizations, so companies with positive employee reviews and compelling endorsements gain the upper hand.
There's an important lesson to be learned here — you can't just pay lip service to building a strong employer brand. The strength of your brand is built on the true inner workings of your company and the sentiment your culture creates.
4. Alignment between leadership, HR and marketing
Many times, HR, marketing and executive leadership are siloed in their efforts to recruit and retain top performers. But when these three entities are aligned, it's a strong indication that your employer brand is firing on all cylinders and positioned for success.
More and more, employees and candidates want to find meaning in their work, seeking out workplaces that share their same values. When company leadership, HR and marketing teams are working separately, it can send mixed messages and opportunities can be missed. Companies with great employer brands bring these teams together to define a shared vision, mission and values from the get-go — the bedrocks of a strong hiring brand.
5. Low turnover
With all of the time, effort and money invested in each hire, turnover is obviously costly and an indication that your employer brand needs a refresh. According to LinkedIn, a strong hiring brand reduces turnover by 28% annually, helping you to cut costs while also improving your ability to retain top employees.
The better your employer brand, the better your retention. Herein lies another secret to building an exceptional employer brand: ask employees for insights. What made them choose you over your competitors? What makes them stay? Hearing directly from your top employees can help you to craft a hiring brand that's authentic to your organization and your ideal candidates.
Need help building your team and brand?
At Coit Group, it's our job to help you stand out in the marketplace and create a compelling brand that's true to who you are and who you aspire to be. Hiring brand is one of the six areas of focus emphasized in our proven Method. If you're not getting the results you want and falling short in the signals outlined above, we can help. Contact us today at [email protected].