Addressing The Main Concerns of Recruitment Process Outsourcing (RPO)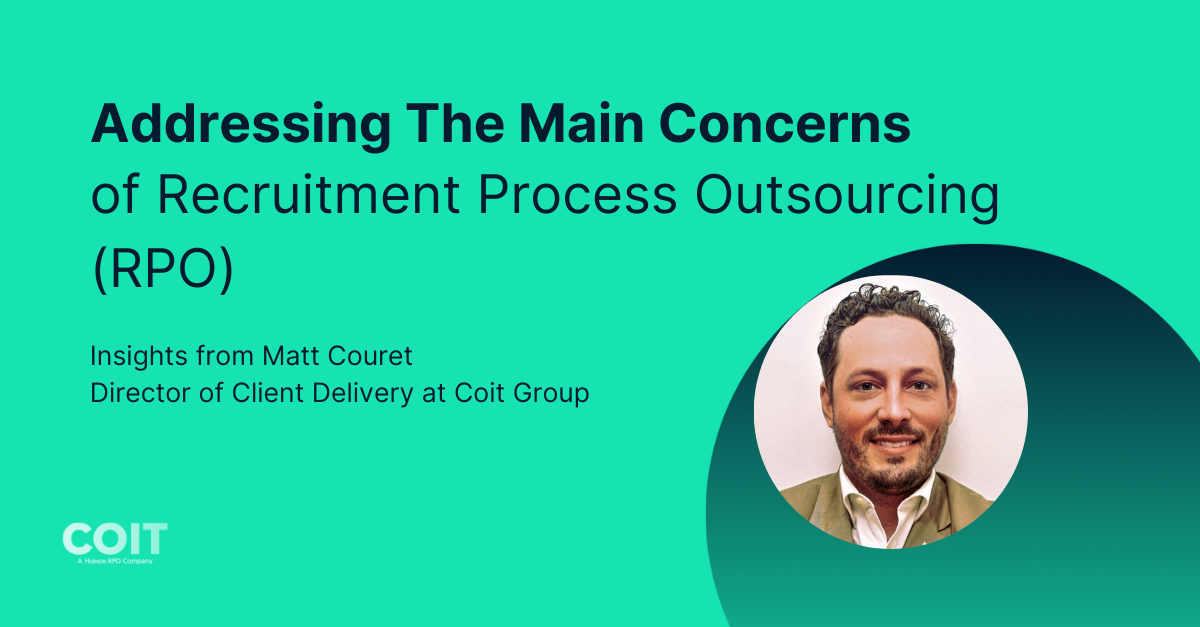 Recruitment Process Outsourcing (RPO) is becoming a valuable solution to the talent acquisition challenges faced by organizations. However, common misconceptions often hinder its adoption. In this blog post, we summarize the insights of Matt Couret, Director of Client Delivery at Coit Group. He addressed the main concerns TA leaders may have with an RPO provider.
Retaining Control through Collaborative Partnership
Fearful of losing control? You won't. RPO's don't force you to give up control; instead, they amplify and optimize your existing processes.
"Implementing an RPO solution does not mean giving up control; instead, it presents a collaborative opportunity." – Matt Couret
According to Couret, organizations maintain control over the recruitment process. But they enjoy the wider market-level view and best practices offered by an RPO partner. Clear expectations, open communication, and defined performance metrics lead to a successful partnership.
Will they understand the culture?
Concerns about cultural fit are common. Leaders worry about integrating external staff into an established organization. Couret emphasizes the importance of early discussions between organizations and their RPO partners. With healthy change management and communication, companies can outline RPO success and gain buy-in from relevant stakeholders.
What's more, is that RPO providers are uniquely skilled in understanding team culture. They have to be. How else would they bring you the best people for your team? Reputable RPO providers invest time in understanding an organization's unique values, mission, and work environment. This ensures that recruitment strategies align with the organization's culture.
"By aligning recruitment strategies with the organization's culture, companies can attract candidates who not only possess the required skills but are also more likely to thrive within the organization." – Matt Couret
What about the cost?
Cost is often the most misunderstood aspect of RPO. Partnering with an RPO provider can yield significant cost savings in the long run. RPO offers access to economies of scale, specialized tools, and streamlined processes. These efficiencies reduce the time-to-fill positions and improve the quality of candidates. They cut expenses associated with prolonged vacancies and poor hiring decisions.
Will our candidates have a good experience?
Delivering a positive candidate experience and safeguarding the employer brand are paramount. Reputable RPO partners work with HR and marketing teams to optimize employer branding. RPO leaders will build consistent processes, on-brand messaging, and personalized experiences throughout the recruitment journey. This means candidates choose organizations where they feel valued and engaged. In other words, yours.
"Reputable RPO partners work closely with HR and marketing teams to ensure consistent processes are in place, providing on-brand messaging and personalized experiences throughout the recruitment process." – Matt Couret
What do internal teams do with RPO?
RPO always aims to enhance rather than replace an organization's HR capabilities. By leveraging the specialized knowledge of an RPO provider, organizations can allocate internal resources to strategic HR initiatives. This might include talent development, employee engagement, and succession planning. The HR team will deliver increased value to the organization, foster long-term growth, and maximize the benefits of the RPO partnership.
RPO Makes Sense
Reputable RPO partners enhance efficiency, candidate quality, and overall recruitment outcomes. By leveraging the insights and expertise of RPO providers, organizations can measure these improvements across the entire talent acquisition process. As Matt Couret emphasizes, understanding the true potential of RPO is key to optimizing talent acquisition strategies and driving long-term success.
To read Matt's direct thoughts on the misconceptions, read his Linkedin article here.