What advice do recruiters have for hiring managers?
Recruiting is more than just a series of interviews and evaluations. But that shouldn't come as a surprise to you. It's a strategic endeavor that requires a fine balance of technology, human touch, and a deep understanding of market dynamics.
Hiring managers have evolved to become a blend of strategists, communicators, and sometimes marketers. They have a plethora of tools at their disposal, from AI-driven analytics to social media channels for employer branding.
However, while technology can offer efficiency, the human element remains irreplaceable. Factors like company culture, the nature of the job, and even the current state of the job market can influence how you should approach hiring. Emotional intelligence, the ability to read between the lines, and a deep understanding of your company's specific needs can't be automated. The recruitment process is not a one-size-fits-all model. Whether you're a startup looking for versatile players or an established enterprise in need of specialized skills, your hiring strategy should be as unique as your organization's goals and challenges.
We asked our recruiters together for the advice hiring managers need to build a high-performing recruitment process. Here's what they had to say. 👇

It's crucial to stay proactive and keep a close eye on your candidates throughout the recruitment journey. Regular communication and timely updates will not only demonstrate your commitment but also maintain their interest and engagement.

Additionally, providing constructive feedback, even in challenging situations, is essential. Honesty and transparency go a long way in building trust with candidates. Don't hesitate to address any challenges or obstacles your company may be facing. By openly discussing these challenges, you not only show authenticity but also provide an opportunity for improvement.

Una Karanovic, Director, People & Partner Solutions at Coit Group

Open lines of communication are the key to a successful recruitment process. On the front end, communicate as clearly as possible what type of candidate you are looking for. As that vision changes throughout the process (it will) keep the team updated in real-time. Provide feedback. Ask questions. Repeat. Recruiters and hiring managers are partners and should know where the other stands at all times.

Eric Wilson, Senior Corporate Recruiter at Zenni Optical

Always remember quality over quantity. As a hiring manager, you don't need to talk to everyone in the market. If you find a good fit within the first couple of candidates, make a move. If you hold off too long, that great fit might not be there any longer or if they are, you end up paying a premium due to competing offers.

Paul Mazzagatti, Sr. Manager – Client Delivery at Hudson RPO

Interviewing is not a naturally occurring event. Some candidates may have only been interviewed one time before in their lives. Make sure the candidate is comfortable during the interview and educate hiring teams on picking up social cues if a candidate appears nervous.

Educate candidates on the company culture and growth opportunities during the interview process. Candidates have a lot more options now than ever. Assume and operate with the understanding that candidates have more than one competing company in the mix. Streamline decisions and interview cadence where you can!

Chris Pakalnins, Senior Corporate Recruiter at Zenni Optical

The most important thing hiring managers need to have in place is a process to collect and share timely feedback from interviewers with all stakeholders.

This is a common reason for time gaps in the recruiting process once candidates are identified and being interviewed.

I try to establish an interviewer panel list and preferred communication methods up front so I can reach these people and gently nudge them for feedback.

My advice to hiring managers is to realize the market and the importance of hiring. At the end of the day, if you are a captain, you need solid high-performing soldiers.

Candidates like that are in high demand and will usually have multiple offers.

Alex Hirsch, Senior Recruiter at Coit Group

I always encourage no more than 5 rounds of interviews. The market is competitive and there are great companies out there, so get the information you need, but don't make the process overly long and complicated.

And don't forget to provide quick feedback. We strive to create an environment where feedback is provided to recruiters within 24 hours.

Cache Duininck, Talent Acquisition Strategist at Coit Group

Have a clear idea of what the recruitment process looks like

Have a clear idea of what their ideal candidate looks like

Be concise in the important people who need to be part of the interview process

Don't involve anyone who's schedule is too busy or could slow down the decision-making process

Don't bring too many chefs into the kitchen

Prepare for the interview in advance, and have your questions ready, which would help in making sure you interview each candidate equally and compare them

If you have a candidate that fits the bill, don't always try to keep your options open, sometimes the first candidate is the best, and waiting too long you could lose the ideal candidate

Trust your recruiter. They are the ones who are exposed to the reality of the market that is ever-changing. If you're not sure of something, open communication is key.

Provide feedback ASAP. It's easy to not want to take the time to provide feedback if the candidate is not the right fit, but this open communication and feedback is what helps the recruiter narrow down to the ideal candidate

Recruitment is a process, there is trial and error which ultimately leads to the chosen candidate.

Patience is key.

Noémie Aubé, Senior Technical Recruiter at Jamieson Wellness
Share Their Quotes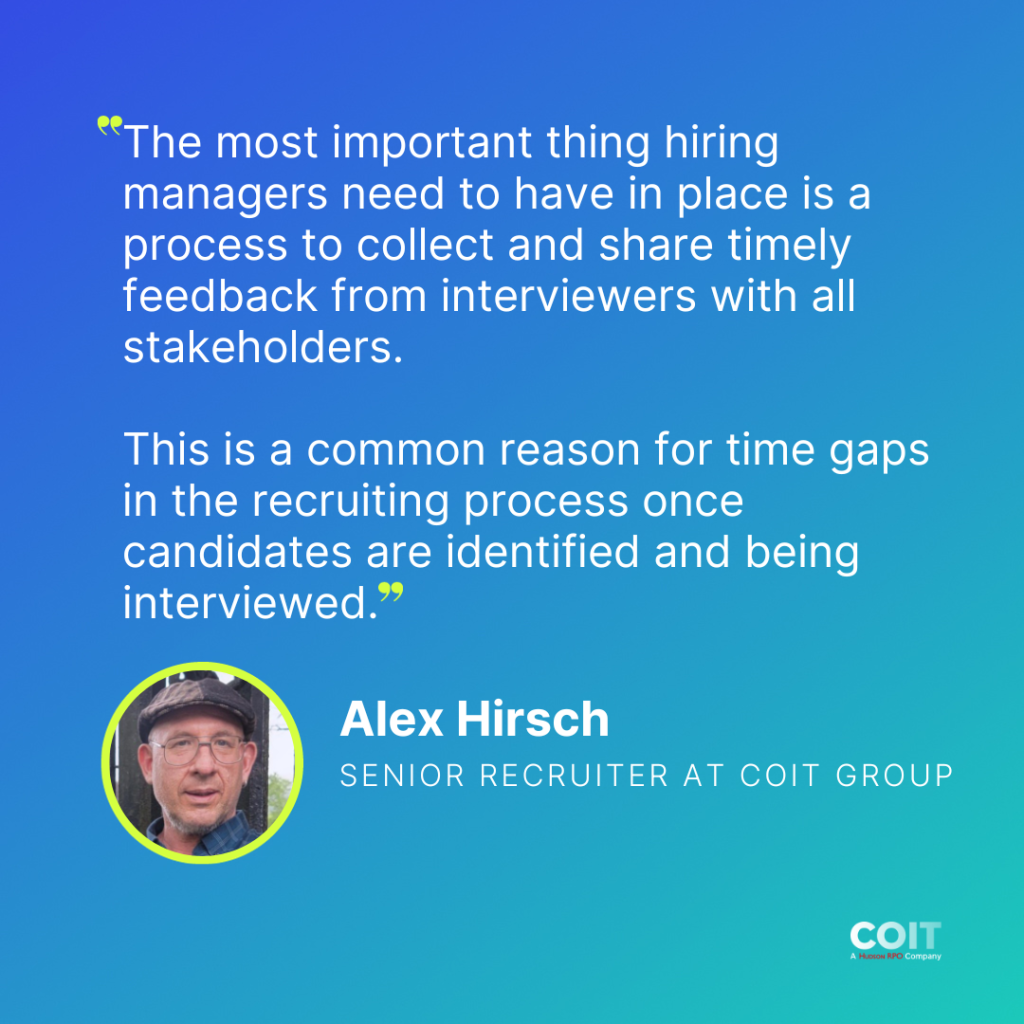 Final Thoughts
The recruitment process is a complex but rewarding journey that requires a multi-faceted approach. As our recruiters have pointed out, communication, timeliness, and quality should be the cornerstones of any effective recruitment strategy. But beyond these principles, it's crucial to remember that the landscape is ever-changing.
Whether it's the rise of remote work or the increasing importance of employer branding, staying ahead of the curve is essential. So, keep an open mind, be willing to adapt, and never underestimate the power of a well-placed feedback loop. After all, the goal is not just to fill a position but to find the right talent that will contribute to the long-term success of your organization.
If your recruiting process needs to be streamlined to be more efficient, contact us and our recruiting specialists will get you on track.