Employee Retention: What TA Leaders Say Is The Most Important Factor
Retaining Employees Is Worth It
An estimated 50.5 million U.S. workers quit their jobs in 2022, with monthly quits edging up to four million in the latest federal report. With the cost of replacing hires ranging from one half to two times an employee's annual salary, it only makes good business sense for company leaders and managers to keep employees happy and engaged long-term.
This unfortunately is often easier said than done. The list of retention challenges is long and complex. From compensation to workplace flexibility, low morale, a chaotic company culture, lackluster training, a lack of career development or simply feeling unappreciated or disrespected, each of these reasons is enough to drive good employees away.
So how do you keep your employees engaged long-term, and level up to create true champions for your hiring brand and team?
As with any business challenge, it's important to capture data — to listen to your employees and gain a better understanding of what they're seeking and experiencing each day. Exit interviews, ongoing one-on-ones and performance reviews all help to surface these critical insights.
What TA Leaders Have To Say
It's also insightful to pay attention to industry leaders. Here, we've rounded up some words of wisdom from expert talent leaders.
---
Ryan Ayres, Director, People & Culture at PartnerStack
"One factor that has the greatest impact on employees staying with an organization is having alignment on the challenges the organization is trying to solve. People need to believe in the mission and vision of the company as well as the strategy to accomplish it. I don't believe it is necessarily alignment to selling widgets but more what problem does the widget solve for our customer.
Another factor is the people. Everyone wants to belong to an organization where they know they can count on others. All employees want to work with kind people who care about delivering their best work possible and working on solutions that have an impact and are focused on working together to accomplish a goal.
The last factor is psychological safety. Alignment and great people without psychological safety is not enough. Every employee needs to be able to bring forward ideas and concepts without fear. They need to feel that their opinions and thoughts matter and are respected. Employees need to be able to bring their whole selves to work every single day.
Ultimately the culture and philosophy of an organization help to drive all of these. It's not about free lunch, beer and ping pong tables. It's about the core DNA of an organization and the culture is a direct reflection of the actions and behaviors of the people who are part of it."
---
Emma Surich, Director of Talent Acquisition at Perpetua
"More than just your day to day perks and benefits, employees are looking for growth and learning opportunities. The more you can provide the frameworks for employees to know where they are at in their career and how to get to the next step with your organization, the more they will feel invested in
the mission. Organizations need to be investing in their employees to help them to get to that next step with continuing learning and development opportunities."
---
Simon De Matteo, Head Of Talent Acquisition & Executive Search PropTech Scale Up
"Not only your own manager, but the overall leadership and vision of the executive team."
---
Tim Farrelly, Co-CEO of Coit Group, a HudsonRPO Company
"When companies prioritize personal growth and cultivate an encouraging, nurturing workplace they see a boost in employee retention.

Employees seek to be appreciated and have confidence in their long-term prospects with the organization. Employee satisfaction and retention can be greatly augmented by promoting mentorship, career progression, transparent dialogue, teamwork, inclusiveness, varied perspectives, and a balanced work-life experience.

At Coit Group, we place a premium on these values and guide our clients in adopting similar practices."
---
Nancy Gray-Starkebaum, Vice President Client Value Realization
"I believe that there are several factors that contribute to an employee's decision to stay or leave a company. We all know that people leave managers, that compensation can be a factor etc. However since the pandemic I think our collective thinking has shifted and today, it's whether or not a company respects it's employees. Do they respect my time and efforts, do they trust me to decide whether or not I need to be in the office based on my schedule and activities, do they respect my priorities outside of the office?"
---
Paul Anthony Hamilton, Director Talent Acquisition at LCBO
"Post-pandemic, employees are looking to stay with an organization where they feel valued, respected and heard. A place where their safety and well-being are prioritized in an environment where they can bring their true, authentic, best selves to work each day.
The work is always shifting, but the culture needs to be steadfast and the cornerstone of an organization's retention strategy."
---
Jerrod Wheeler, Vice President, Talent and Culture at Fluence
"A positive and supportive relationship with a leader can lead to higher levels of job satisfaction, a greater sense of belonging within the company, and increased opportunities for growth and development.
Conversely, a poor relationship with a supervisor can lead to feelings of disengagement, frustration, and ultimately, a decision to leave the company.
I always advocate for companies to invest in leadership development programs and to ensure that their managers are trained to build positive relationships with their employees. Those relationships improve employee retention rates and create a more positive and productive workplace culture."
---
Amanda Harvey, CHRL, Vice-President, People and Culture at Alimentiv
"Having a boss that cares about you and advocated for your development really helps."
---
Noémie Aubé, Senior Technical Recruiter at Coit Group, a HudsonRPO Company
"There are several factors that influence employee's decision to stay with their company. Whenever I ask my candidates about their motivation in switching jobs, it's usually because they're looking for long term growth and career progression opportunities which they feel is lacking in their current position. If an employer provides a clear career path and proves again and again that they promote from within, they will keep their employees happy and motivated to get to the next level in their career.
Too often we see candidates switching employers because it's the only way they can get a promotion or a salary bump. Employers should value the employees they already have to stay competitive in the market. Another reason that I often hear is regarding commute. They are either looking to reduce their commute time or looking for a hybrid/remote opportunity which translates to wanting better work-life balance.
We are in 2023, candidates have new expectations and companies should be more open-minded about new ways of working. Candidates often tell me they are more efficient at home since they don't have all the distractions.
Company culture is a big factor to include in employee retention. Having an open and transparent culture also makes employees feel valued and included in company decisions. If an employee feels valued, respected and is treated accordingly, they will feel loyalty towards their employer and stay for the long run."
Share these quotes!
Did one of these quotes stand out to you? Download and share your favorite on social.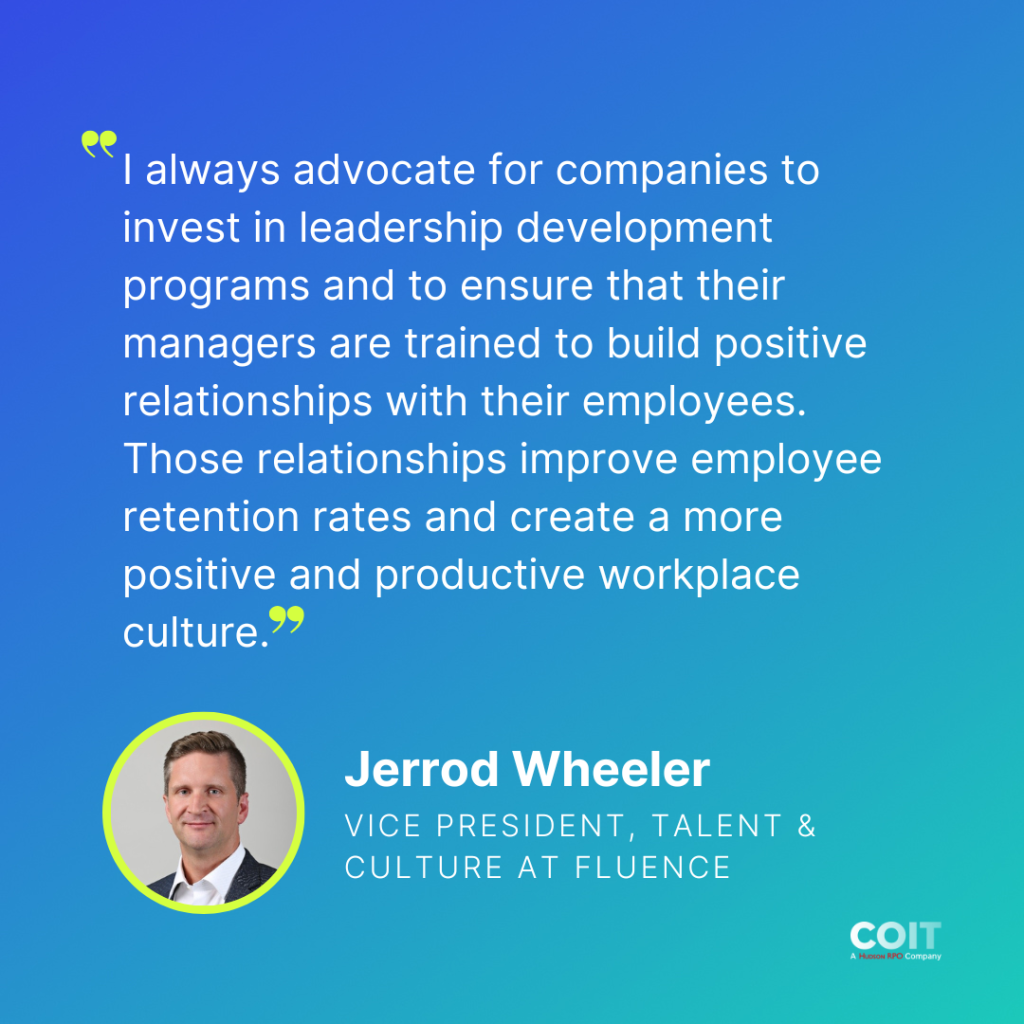 Higher Retention = Greater Profits
Overall, people want to work for a company that both values them and provides ample opportunities for financial and professional growth. At Coit Group, we hear this from candidates and employees time and time again.
As obvious as it sounds, mitigating employee dissatisfaction is critical to your company's long-term success. Turnover and lost productivity are risks that are extremely expensive and damage your employer brand. If you're tracking the costs of replacing employees and lost productivity, you already know this.
If you aren't, these stats can help to illustrate costs:
– Voluntary turnover costs U.S. businesses an estimated $1 trillion annually — and these are just for the people who proactively leave.
– For those who stay, employee engagement is at its lowest ratio since 2013, making it safe to say that at least a few of your employees may be checked out.
– Disengaged employees cost companies an astonishing $7.8 trillion in lost productivity worldwide, roughly 11% of the global GDP.
Fortunately, simple strides can help you to make tremendous gains. Need advice to improve your retention and employee engagement? We are here to help you. Contact us at [email protected] today.