RPO Partnerships > Predictors of Success starts with their Premise, not their Promise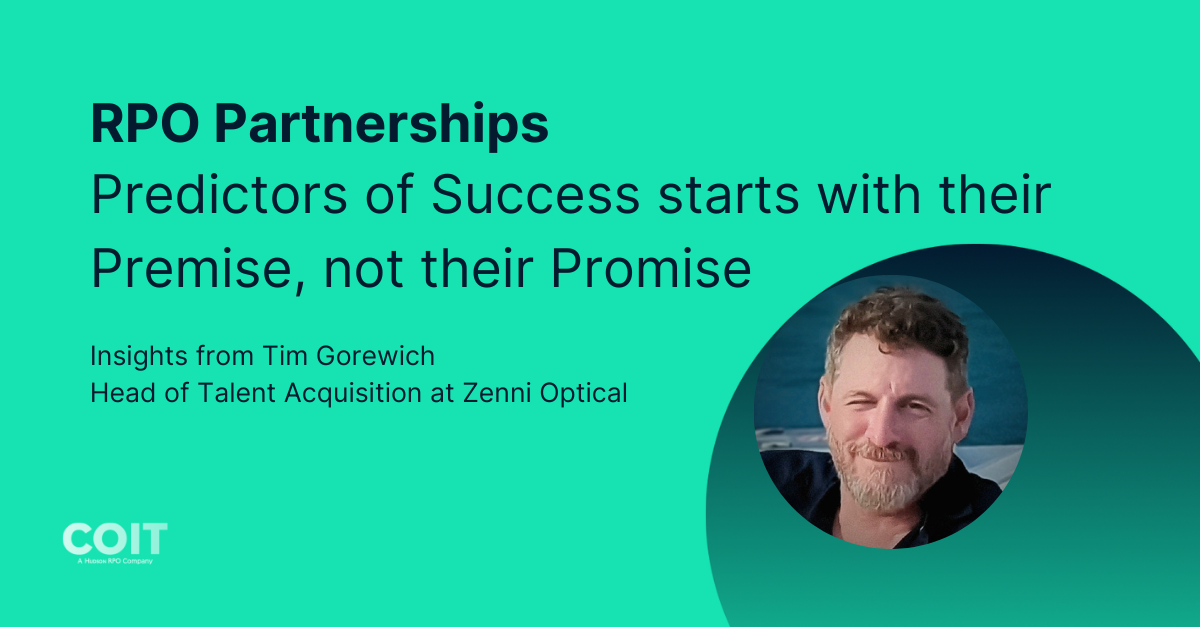 Working with an RPO becomes a real consideration when your organization is ready to grow beyond the capabilities of your current recruitment function. The vetting process can be daunting, and selection will usually come down to a solution provider based on decent track records with other businesses, referrals, and persuasive PowerPoint presentations; but even those with the best reputations are subject to unpredictable talent markets and ability to maintain their own roster of top-performing recruiters.
The reality remains; until a solution provider can start showing a return on your investment, that relationship is centered on optimism. Your confidence, however, is earned by proof, not predictions.
So how do you confidently select an RPO without proof? Take a step back and start with an RPO's premise, (not their promise) and ask yourself: Is the RPO approaching your needs and goals as a true partner or merely a solution provider?
The partnership approach should be non-negotiable in the growth plan for your organization's most valuable asset – your talent roster. Be on the lookout for various indicators of a fully integrated RPO partnership, and the best predictors of success can be seen in how they differentiate your organization from all other talent market competitors.
Substantiate your confidence level in an RPO partnership by assessing their approach to following:
Top-down buy-in and overall C-suite alignment.
Does the RPO underscore the gravity of adopting your values, story, and mission as their own? How will this be reflected internally with hiring teams and projected externally in the talent market?
Faster, lighter, and enthusiastic process adoption.
How much time will be diverted from your team's core business in order to achieve successful outcomes? How do they streamline communication to ensure convenience and speed for hiring teams and candidates? 
Proof of success in the post-implementation stage.
What are the principal pain points as it relates to your existing hiring function and how will your prospective RPO track and measure their success in those specific areas? 
Powerful Market Positioning capabilities.
How does the RPO leverage market insights to better position your organization as a highly competitive employer of choice?
Move forward with confidence and partner with an RPO who can illustrate its operating framework as a solution to your specific hurdles, and serve as a champion of your organizational aspirations.